The Black Military Experience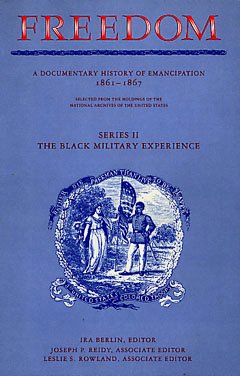 The service of nearly 180,000 black soldiers in the Union army sped the transformation of the Civil War into a war against slavery. This volume of Freedom: A Documentary History of Emancipation examines the meaning of military service for slave and free-black men, their families and communities, and the nation. It details the recruitment of black Union soldiers in the Northern free states, the border slave states, and the Union-occupied Confederacy, as well as the eleventh-hour attempt by the Confederacy to enlist black soldiers. The documents in The Black Military Experience, many of them written by black soldiers and their loved ones, open a window on the lives of the men both on duty and off. Revealing the triumphs and tragedies of wartime service, they show black soldiers braving the test of combat, enduring the drudgery of fatigue duty, interacting with white officers, protesting inequality within the Union army, facing the dangers of capture by the enemy, confronting the complexities of military justice, liberating and protecting their families, serving in the postwar army of occupation, and returning to civilian life.
896 pp. Table of contents (pdf)
The Black Military Experience received the J. Franklin Jameson Prize for Distinguished Editorial Achievement of the American Historical Association.
Copies of The Black Military Experience may be ordered from Cambridge University Press online, by telephone (800-872-7423), or by fax (914-937-4712). Readers may also be interested in Freedom's Soldiers: The Black Military Experience in the Civil War, an abridgment that includes many of the documents originally published in The Black Military Experience.
Selected Documents from the Volume