The Destruction of Slavery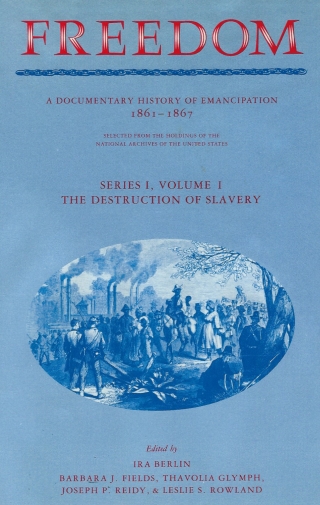 This volume of Freedom: A Documentary History of Emancipation examines the process by which slavery collapsed under the pressure of federal arms and the slaves' determination to place their own liberty on the wartime agenda. In documenting the transformation of a war for the Union into a war against slavery, it shifts the focus from the halls of power in Washington and Richmond to the plantations, farms, and battlefields of the South. It shows how slaves, taking advantage of the opportunities opened by the war, fled their owners, worked and in many cases fought for the Union army, and resisted bondage from within the Confederacy. In so doing, they initiated a process that eventuated in the Emancipation Proclamation and the Thirteenth Amendment, securing their own liberation and setting the entire nation on a new course. Organized geographically, the volume traces the demise of slavery in regions of the Confederacy that came under Union control during the war (tidewater Virginia and North Carolina; lowcountry South Carolina, Georgia, and Florida; southern Louisiana; and the Mississippi Valley), in those parts of the Confederacy that escaped federal occupation, and in the border states of Maryland, Missouri, and Kentucky.
896 pp. Table of contents (pdf)
The Destruction of Slavery received the Founders Award of the Confederate Memorial Literary Society and the Thomas Jefferson Prize of the Society for History in the Federal Government.
Copies of The Destruction of Slavery may be ordered from Cambridge University Press online, by telephone (800-872-7423), or by fax (914-937-4712).
Selected Documents from the Volume