Free at Last: A Documentary History of Slavery, Freedom, and the Civil War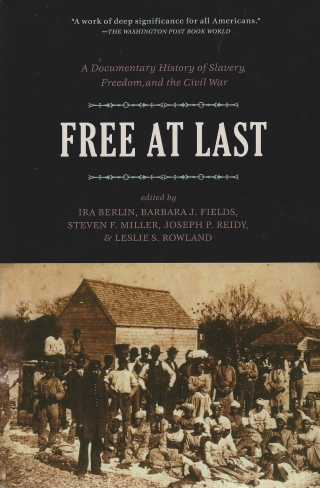 Free at Last makes available in a single volume the most moving and informative documents from the first four volumes of Freedom: A Documentary History of Emancipation.
The triumph and travail of emancipation emerge in the words of the participants – liberated slaves and defeated slaveholders, soldiers and civilians, common folk and aristocrats, Northerners and Southerners. The documents reveal the active role of slaves and former slaves in escaping slavery, aiding the Union cause as laborers and soldiers, transforming the war for the Union into a war against slavery, and giving meaning to their newly won freedom in a nation wracked by warfare and political upheaval.
Available in paperback and suitable for classroom use, Free at Last includes a convenient chronology of wartime emancipation and suggestions for further reading.
571 pp. Table of contents (pdf)
Free at Last received the Lincoln Prize, which is awarded annually to the finest scholarly work on the Civil War era.
Copies of Free at Last may be purchased from The New Press online, by telephone (800-233-4830), or by fax (212-629-8617).
Selected Documents from the Volume